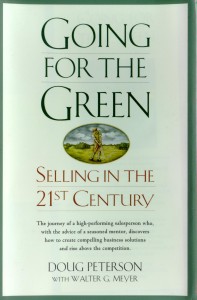 Acclaimed as one of the business books to read to improve sales, Going for the Green: Selling in the 21st Century is an easy-to-read business book in the form of a novel about a top sales professional and single mother who can't make her sales numbers anymore. She meets an older woman on the golf course who becomes her mentor and teaches her a better way to sell, golf and live.
Purchase Going For the Green
Praise for Going For the Green
"I picked it up and damned if I could not put it down!. I got all wrapped up in the story and whether she was really going to land that account....and I HATE sales!" -- Colleen Wainwright, President, BeanEyes Communications "Quite Possibly the best speaker we've ever had." - Rob Kalchthaler, Bethel Park Librarian.